Attempts to block citizens' requests via AsktheEU.org
Recently, the European Commission has been attempting to block requests for access to documents sent via AsktheEU.org.
The new policy, which was adopted on 1 April 2014, is to refuse to process requests until citizens provide their postal address. Click here to see a statement by Access Info denouncing this policy.
Access Info has prepared a draft appeal or confirmatory application which you can use to respond if this happens to you. We are also happy to receive your correspondence at our office in Madrid, which we can forward to you and upload to AsktheEU.org.
Access Info will complain to the European Ombudsman about this. Please do not hesitate to send us a link to your request so we can include it in the complaint: team@asktheeu.org
If you prefer to use your own postal address, please contact us directly so we can delete it from the website as soon as you have sent it. You can also send it to the EU institutions offline and then simply forward us the correspondence later!
ASKTHEEU.ORG IS AN ONLINE PLATFORM FOR CITIZENS TO SEND ACCESS TO DOCUMENTS REQUESTS DIRECTLY TO EU INSTITUTIONS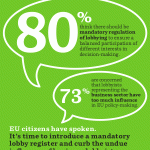 European Central Bank urged to review refusals
Brussels, Friday 27 September 2013 – The European Central Bank regularly invokes the need to protect monetary policy and the financial stability of the Union and its Member States when refusing...
Madrid, 9 May 2013 – To celebrate Europe Day, Access Info Europe launched a citizen-friendly Guide on Access to EU Documents and is calling on members of the public and civil society organisations to...

Making EU-requests is getting more popular!

Since the creation of the AsktheEU.org platform in September 2011, increasing numbers of citizens have been logging in and making requests to EU institutions. This has not gone unnoticed. The 2012 Cou...
Betterplace.org is Germany's largest online fundraising website. It has a running Trendreport which gathers digital innovations on the internet and elsewhere in order to spread new ideas to the...
TOP REQUESTS
13
People following this request
13
People following this request
9
People following this request